Wi-Fi Hotspot login pages
Our Hotspot gateways allow you to display a login page to your guests. The login page can be used purely for branding purposes, to ask guests to agree to the terms and conditions, to ask guests to pay a fee or to ask them to register their email address.
A customized login page can be displayed to guests with a link to the terms and conditions and an 'I Agree' button.
Guests can be asked to register their name and email address to gain Internet access.
A login page can also be set up to ask for payment using PayPal™. Access codes can be created by the gateway and sold or provided to guests free of charge.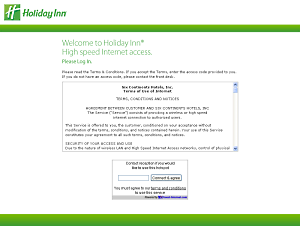 The Guest Internet Hotspot Gateway
The GIS Hotspot Gateway is a low cost, reliable and easy to install hotspot system. The GIS gateway is designed to sit between the DSL or Cable modem and a Wi-Fi Access Point (Wi-Fi AP). The GIS gateway controls access to the Internet, challenging and validating guests as they connect to the Wi-Fi Hotspot network.
The GIS Hotspot Gateway is also a fully functional firewall and offers advanced features such as a bandwidth throttling (speed control), peer-to-peer file share blocking, IP and MAC address filters, port forwarding, content filtering, remote management and etc. Take a look at the hotspot product page for more details.
Customizing the Hotspot login page
The Wi-Fi Hotspot login page can be customized in 3 different ways:
  1. Selecting from one of 12 built-in designs
  2. Uploading an image with a logo or picture
  3. Uploading a professionally designed login page
The built-in wizard is easy to use; simply select a picture, give the hotspot a name, some contact details and a message for the guests.
See a demo of the hotspot login page wizard.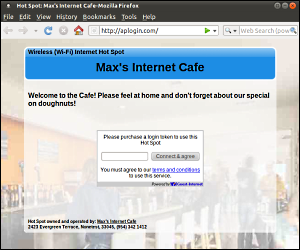 The login page can also be professionally designed using HTML/CSS or Flash. The custom design is often used to give the Hotspot login page the same appearance as the Hotspot owner's web site, reinforcing the brand and providing a familiar look and feel to guests.
Other pages can also be uploaded with the login page to create a browsable web site on the Hotspot. Pages containing restaurant menus, legal texts (terms/discalimers) or support information can easily be displayed to guests.
'Walled gardens' can be set up so the guest can browse web sites, including the owner's and partner's web sites, before having to log in or pay for access.