Essential requirements for a dual SSID Internet service
Guest Internet gateways implement independent VLAN's which permit dual-SSID wireless access points to provide an encrypted wireless service for staff that connects to back office systems and an open wireless service with login page for guests and travelers.
Guests and staff are isolated with a PCI compliant firewall.
2-tier login Internet access for the public with free basic Internet and a charged high-speed service.
Block hackers with a PCI compliant firewall to protect the back office infrastructure.
Provides information about Internet use.
There are no limits of use; installations can be expanded for thousands of users.
Connects the Internet service with multiple ISP's for reliability using load balance and failover.
Easy to configure and use, free Cloud administration.
Free support and software updates; no additional charges.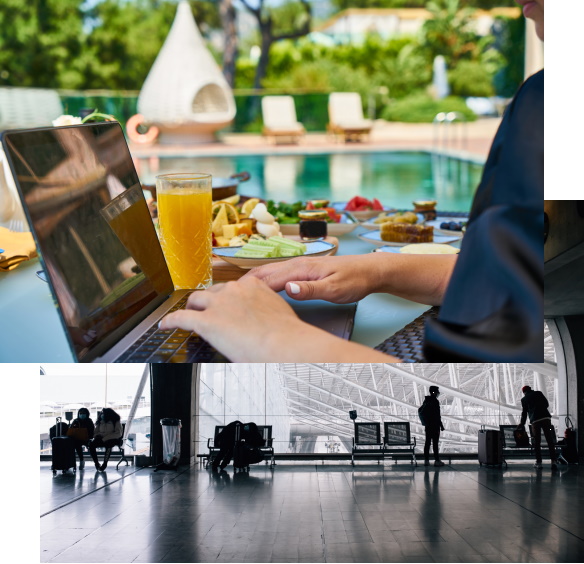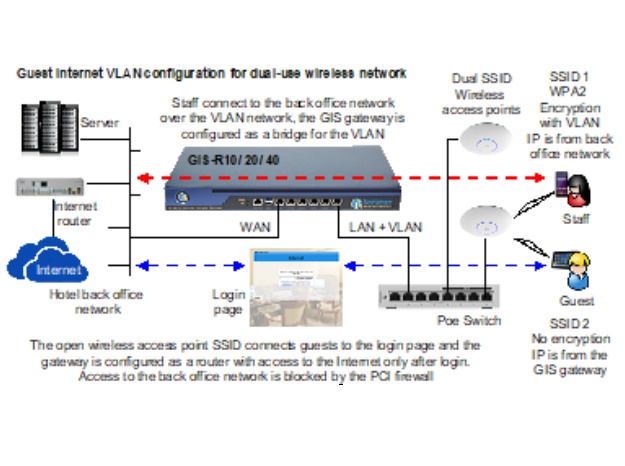 Many business applications require two independent wireless network infrastructures. Hotels require one public wireless network for guests and another encrypted wireless network for staff. Airports require a public wireless network for travelers and an encrypted wireless network for staff and franchise operators.
Guest Internet has developed a VLAN gateway interface that supports any wireless access point with two or more SSID's for guests and staff, where each have optional encryption and each can connect to an independent VLAN network. The network can also be used to connect IP phones and IPTV. The cost of wireless infrastructure and data cabling is reduced to half, which represents a significant installation cost saving. Security is assured because the Guest Internet gateway implements a PCI compliant firewall to isolate each VLAN.